Who Had The Better Reign? Okada vs Kobashi
Today on BETWrestling.com instead of doing my usual Wrestler of the Week posts, we will be taking a look at two of the greatest World Title reigns in Puroresu: Kazuchika Okada's current run as NJPW's IWGP Heavyweight Champion and Kenta Kobashi's legendary 735 day reign as Pro Wrestling NOAH's GHC Heavyweight Champion!
Before we get right onto the nitty-gritty, I will be first sharing some background information on both wrestlers for those of you who are unfamiliar with them.
Kazuchika Okada is seen by many fans today as not only the best wrestler in Japan but in the whole world! Ever since his rise to the top in New Japan Pro Wrestling, Okada surpassed Hiroshi Tanahashi as the "Ace of the Company" and has quickly become one of the most recognizable names in all of Japan! He also recently just made history by becoming the first Japanese wrestler to rank No. 1 in PWI's Yearly Top 500!
Kenta Kobashi is a legend in Japan. He started out in AJPW in 1998 becoming a 3x AJPW Triple Crown Champion. When Misawa left AJPW and created Pro Wrestling NOAH, Kobashi along with many other wrestlers jumped ship as well. He had a legendary career that lasted for three decades, his return to the ring after a battle with cancer is still one of the most emotional moments from wrestling and his retirement ceremony in 2013 is just as impactful.
Overall, both men are two of the greatest wrestlers Japan has to offer. One of them is yet to reach his prime while the other is a universally respected icon. Let's take a look at their historic World Championship Reigns!
ROUND 1 – HOW DID THEY WIN THE BELT?
Okada won his fourth and current IWGP Heavyweight Championship reign from Tetsuya Naito in NJPW Dominion on June 19,2016 after a grueling 28 minutes and 58 second match! The match was rated 4 and a half stars by Dave Meltzer.
Kobashi on the other hand won his first and only GHC Heavyweight Championship against his greatest rival Mitsuharu Misawa at Pro Wrestling NOAH's Navigate For Evolution event in 2003. The match lasted for 33 minutes and 28 seconds, it was rated 5 stars by Meltzer and is considered by many as the greatest wrestling match of all time!
RESULT: Okada vs Naito was a good match but I think Kobashi takes the win for this round simply by just how historic that title bout he had against Misawa! It solidified Pro Wrestling NOAH as the top wrestling promotion in Japan at the time in terms of amazing in-ring performances!
ROUND 2 – TITLE DEFENSES
#1 – 10/10/2016 – def. Naomichi Marufuji (King Of Pro-Wrestling 2016)
#2 – 1/4/2017 – def. Kenny Omega I (Wrestle Kingdom 11)
#3 – 2/5/2017 – def. Minoru Suzuki (The New Beginning In Sapporo 2017)
#4 – 4/9/2017 – def. Katsuyori Shibata (Sakura Genesis 2017)
#5 – 5/3/2017 – def. Bad Luck Fale (Wrestling Dontaku 2017)
#6 – 6/11/2017 – def. Kenny Omega II (NJPW Dominion 6.11)
#7 – 7/1/2017 – def. Cody Rhodes (G1 Special In The USA)
All of Okada's matches as IWGP Heavyweight Champion have been nothing but great! Obviously his matches with Kenny Omega set the bar pretty high for modern day wrestling matches but he also delivered the best matches of Bad Luck Fale & Cody Rhodes' careers!
#1 – 4/13/2003 – def. Tamon Honda (Encountering Navigation 2003)
#2 – 5/2/2003 – def. Masahiro Chono (NJPW Ultimate Crush 2003)
#3 – 8/26/2003 – def. Bison Smith (Navigation Over The Date Line 2003 – Tag 3)
#4 – 9/12/2003 – def. Yuji Nagata (Navigation Over The Date Line 2003 – Tag 13)
#5 – 11/1/2003 – def. Yoshinari Ogawa (Navigation Against The Current 2003 – Tag 11)
#6 – 1/25/2004 – def. Takuma Sano (The First Navigation 2004)
#7 – 3/6/2004 – def. Takeshi Rikio (Navigate For Evolution 2004)
#8 – 4/25/2004 – def. Yoshihiro Takayama (Encountering Navigation 2004)
#9 – 7/10/2004 – def. Jun Akiyama (Departure 2004)
#10 – 9/10/2004 – def. Akira Taue (Navigation Over The Date Line 2004 – Tag 14)
#11 – 10/24/2004 – def. Akitoshi Saito (Navigation Against The Current 2004 – Tag 10)
#12 – 12/4/2004 – def. The Gladiator aka Mike Awesome (Navigation, Uprising Spirit 2004 – Tag 12)
#13 – 1/8/2005 – def. Minoru Suzuki (Great Voyage 2005)
#14 – 3/5/2005 – Takeshi Rikio def. Kenta Kobashi (Navigation For Evolution 2005 – Tag 10) END
Kobashi had a total of 14 title defenses, if you want to watch every single title match of his reign, you're gonna have to spend 9 hours in total to finish them all without skipping. While all of them were good matches, the ones that shined the most were against Chono,Taue,Akiyama,and Suzuki in my opinion.
RESULT: This is just probably due to recency bias but since I have seen EVERY single title defense of Okada so far, I have to give him this one. Each match was different too, playing up to the strengths of his opponents. I'm sure Kobashi's matches were great but not all of them are memorable, like who honestly remembered his title match against Takuma Sano?! If you do, then kudos to you.

ROUND 3 – TITLE REIGN
Okada is having the best World Title reign in all of wrestling right now and has held the IWGP Heavyweight Championship for 416 days and counting! Kobashi on the other hand is the longest reigning GHC Heavyweight Champion in history at an amazing 735 days!
RESULT: I'm just gonna call this one a draw at the moment since I think it would be unfair for Okada since his reign is still not over, as of the publishing of this post anyway. He's going to face EVIL for the title at King Of Pro Wrestling 2017 in October 9, odds are on Okada to successfully defend the belt but let's see if The King of Darkness can put an end to his reign.
ROUND 4 – IMPACT ON THEIR CAREERS & THEIR PROMOTIONS
Kobashi vs Misawa was a match that changed Pro Wrestling NOAH forever. In his AJPW days, Kobashi did win the Triple Crown before but in NOAH he became the huge star he deserved to be! He had a similar path to what Daniel Bryan had leading up to his WrestleMania 30 victory. Okada right now is having the greatest run of his whole career and he's not even at his peak yet, at the young age of 27 he already delivered some of the greatest matches in wrestling history and continues to lead NJPW into becoming a bigger company as a whole!
RESULT: Both of their title reigns had a huge impact of their careers and the respective companies they work for without a doubt. Okada & Kobashi were huge draws, selling out The Tokyo Dome among many other arenas in Japan, their reigns also added prestige to the championship belts, so for me we get another tie in this round!
CONCLUSION
So both Okada and Kobashi's title reigns were great but we end up in a tie right now in terms of the categories I did for myself so I leave the decision to YOU and leave a comment down below or tweet us @BetWrestling on who do you think had the better World Title reign! The Rainmaker or The Absolute Champion?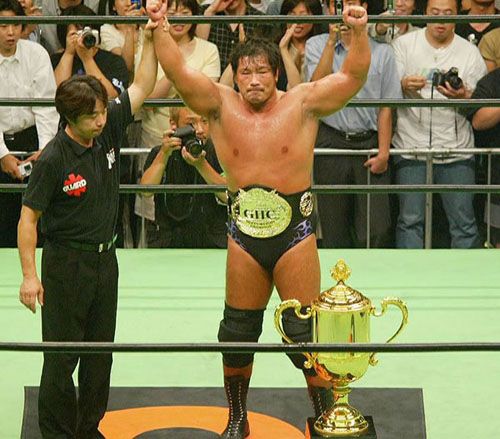 Hopefully you enjoyed reading this article, feel free to leave me your own thoughts & opinions down in the comments below and spread the post around your favorite social medias!
If you want more stuff from me check out my blog: MWC (#CheapPlug)
Source: cagematch.net