How The Undertaker Changed My Life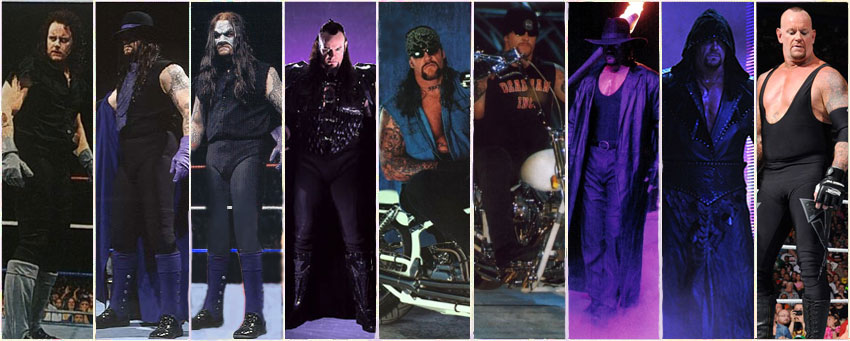 So instead of doing my usual "Wrestler of the Week" posts here I decided to talk about the man that made me fall in love to professional wrestling: The Undertaker.
During Sundays I used to always visit my grandfather's house. One time I was watching TV with him and we were flipping channels and we saw SmackDown was being aired at Channel 9 here in The Philippines.
I was only 7 at the time and we watched The Undertaker doing his entrance. I was so scared yet amazed at the same time! It's like seeing a video game character come to life! That's how mesmerizing and larger than life his character was.
I don't really remember who his opponent was but I do remember Taker winning. He did his usual moveset during that time such as the Old School Walk in the ring ropes,Chokeslam,Tombstone,you know the deal.
Ever since then I was hooked in the crazy and wonderful world of professional wrestling and started searching online for some old school stuff and that's where I discovered more of Undertaker's matches during the Golden and Attitude eras. I was amazed that this man has been going on for so long, he has such a huge passion for the business that no one else can top.
My personal favorite persona of Undertaker was the American Badass! I know not many wrestling fans are fond of "Biker Taker" but for some reason I just really enjoyed that character of his. We saw a glimpse of what he is outside of the squared circle.
But of course the undead persona is the most iconic character not only in WWE but in all of wrestling history! His character managed to evolve through the years, Mark Callaway perfected The Undertaker. I don't think any other man can pull the dedication he has for the gimmick.
The Undertaker has been the cornerstone of every era since the 80's for the WWE. He is Vince's most loyal wrestler and a universally respected legend.
Watching WrestleMania wouldn't be the same without an Undertaker match but as true fans we must not be selfish as this man gave us his life for three decades and entertained wrestling fans all throughout the world, it is time for us to give back by paying the respect he truly deserves.
Undertaker's career may go "Rest in Peace" but his legacy will live on forever! #ThankYouTaker